AI Video Script Generator
Use Denote's AI to generate scripts for your videos for free!
TikTok Video
Script Generator
Free Chrome Extension allows you to generate video scripts an unlimited number of times. You can quickly create a new video script based on the current TikTok video. Say goodbye to hours of brainstorming and writing scripts! Start for TikTok.
Add to chrome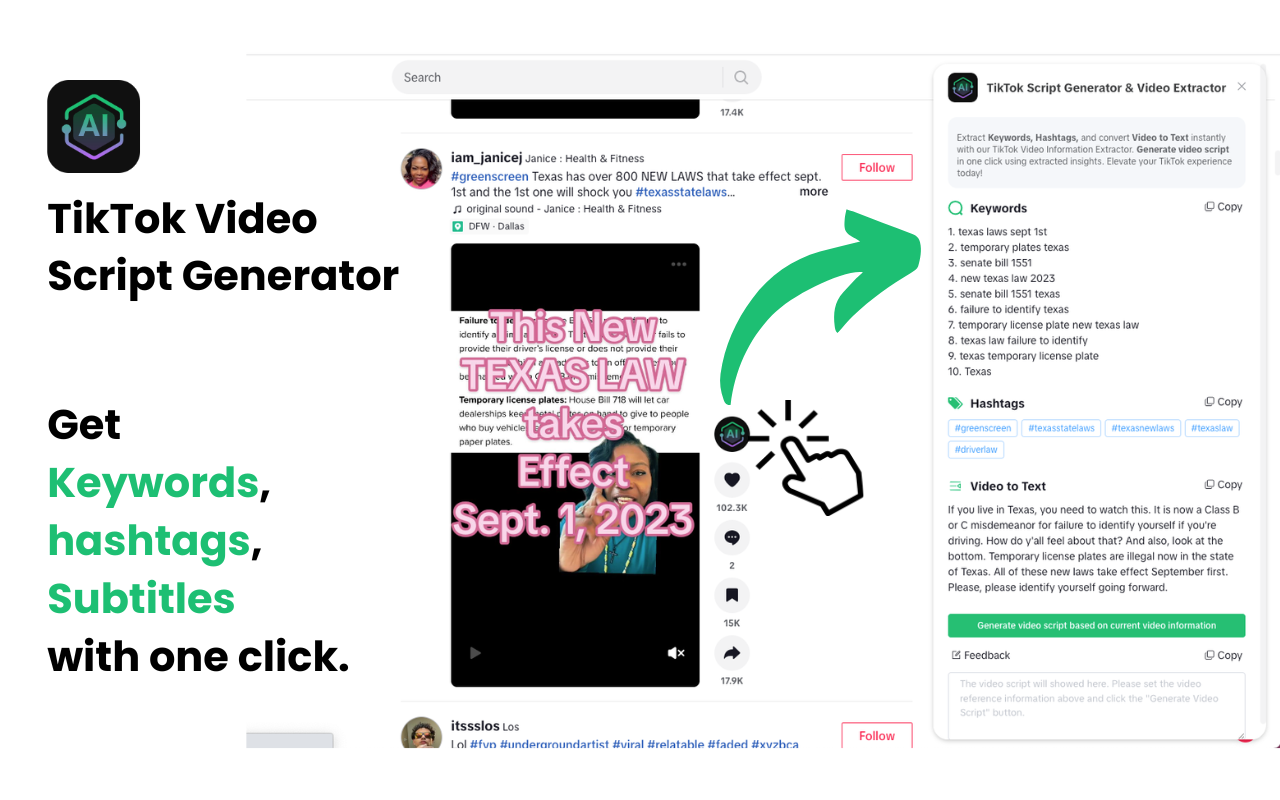 Generate Videos Using AI Scripts
Denote's AI-powered video script generator delivers compelling scripts that effortlessly evolve into stunning movies or short videos. From captivating titles and opening shots to seamless cutscenes, engaging dialogues, immersive narrations, and impactful closing shots, Denote's AI handles it all. Say farewell to the time-consuming process of brainstorming story ideas from scratch. Simply input a prompt, choose your preferred style, and select the format (YouTube video, movie scene, or TikTok clip). Let Denote's AI handle the rest while you enjoy a streamlined creative process.
Cost-Free Convenience: Enjoy AI-generated scripts without any cost
Empower Creativity: Elevate your content creation with creative scripts
Swift and Efficient: Quickly generate scripts for your needs, saving time
Diverse Support: Support Ads or Videos for TikTok Instagram and more
How to generate a script for a video?
---
Write a video topic
Write a few words or sentences describing the video content you want to produce.
Select a vibe and format
Pick and set the energy, feel, and mood for the script. Then fine-tune the results by selecting the platform where you want to publish your video.
Generate the video script
Click on 'Generate Script' to let the AI-powered video script generator do its magic based on the prompt and context you've provided.
Log in to explore more of Denote's exciting features.
Log in to explore more of Denote's exciting features.
FAQ
Frequently Asked Questions
---
Got a question? We've got answers. If you have some other questions, see our support center.
Denote's script generator is AI-powered software that gives you a video script that you can use to create short movies or scenes based on a prompt that you provide. It can include scenes, descriptions, narrations, dialogues, and more—based on your prompt and style preferences. With Denote, you can get movie scripts in seconds after typing your prompt!
Yes! Denote's AI video script generator is free to use. There are no limits to how many scripts you want to generate! You don't even need to sign up to generate a script.