How to Use Denote
Denote is the most effective tool for empowering creative strategists in the ad workflow!This is a guide on how to get started with Denote to accelerate your creative work.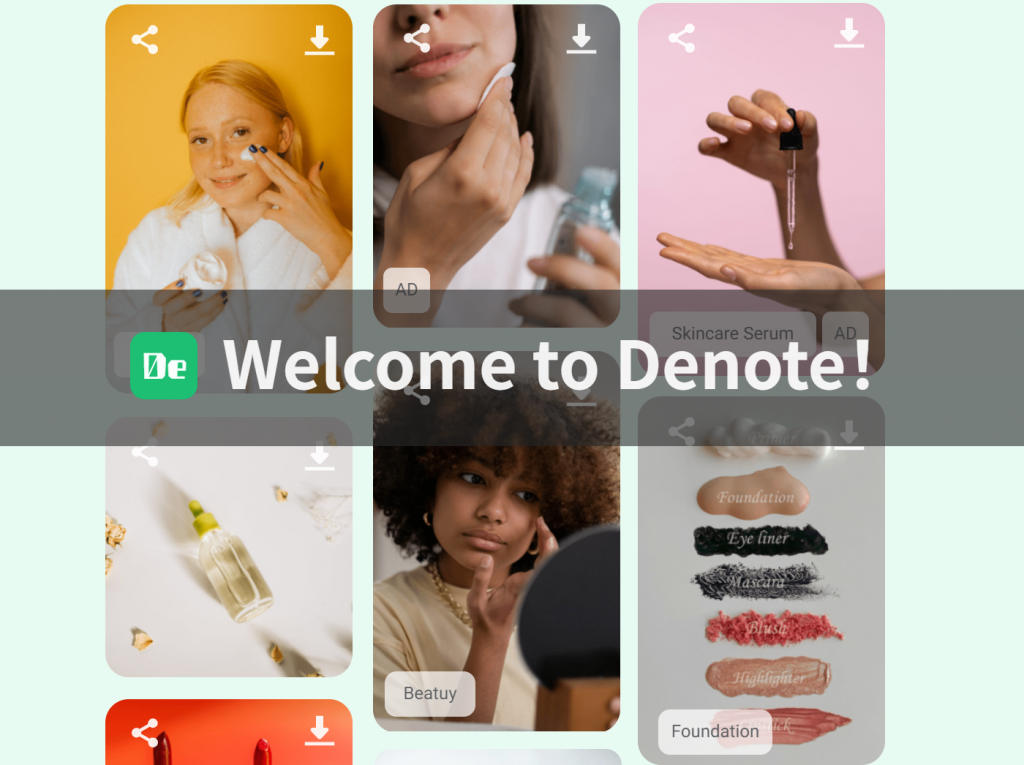 30 Second Summary
Denote is a simple but comprehensive asset management software that aims to capture, organize, and collaborate on creative files.
Key Features:

Save ads from platforms like TikTok, Facebook, Instagram, and more using extension.
Store, organize and manage the totality of creative asset in a single location. Stay organized with Folders & Boards, tags and automated industry filters.
Share board/creative with anyone. Manage creatives with team members, and discuss to spark ideas.
Get Started
Create an account: Visit Denote registration page to create an account using an email + secure password or your Gmail account.
Download the Offcial Extension: Denote - Save TikTok & Facebook Ad is an effective material gathering tool to save ads. You can save ads directly from multiple platforms:

Facebook Ads Library
TikTok Creative Center
Facebook
TikTok
Instagram(Coming Soon)
LinkedIn(Coming Soon)
YouTube(Coming Soon)

Sample Folder
Go to feature page of Denote, you will view the Sample Board firstly which is designed to give you a quick overview of the use cases and some key features on Denote.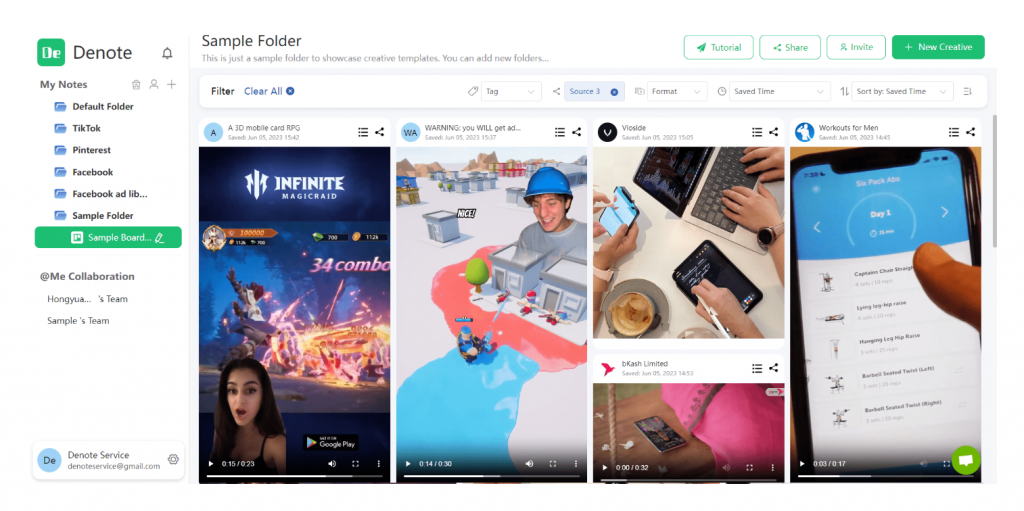 Save Ads to Your Single Home
Click the "New Creative" button, you will see the new creative page.
To save ads to Denote you must have our Extension - Save TikTok & Facebook AD installed.
Once the Extension installation is complete, you can access TikTok, Facebook, and other platforms and get a dropdown + a save button. The dropdown allows you to select what board you would like to save the ad to.
Denote also allows you to upload local videos or images by simply clicking the button labeled "local upload".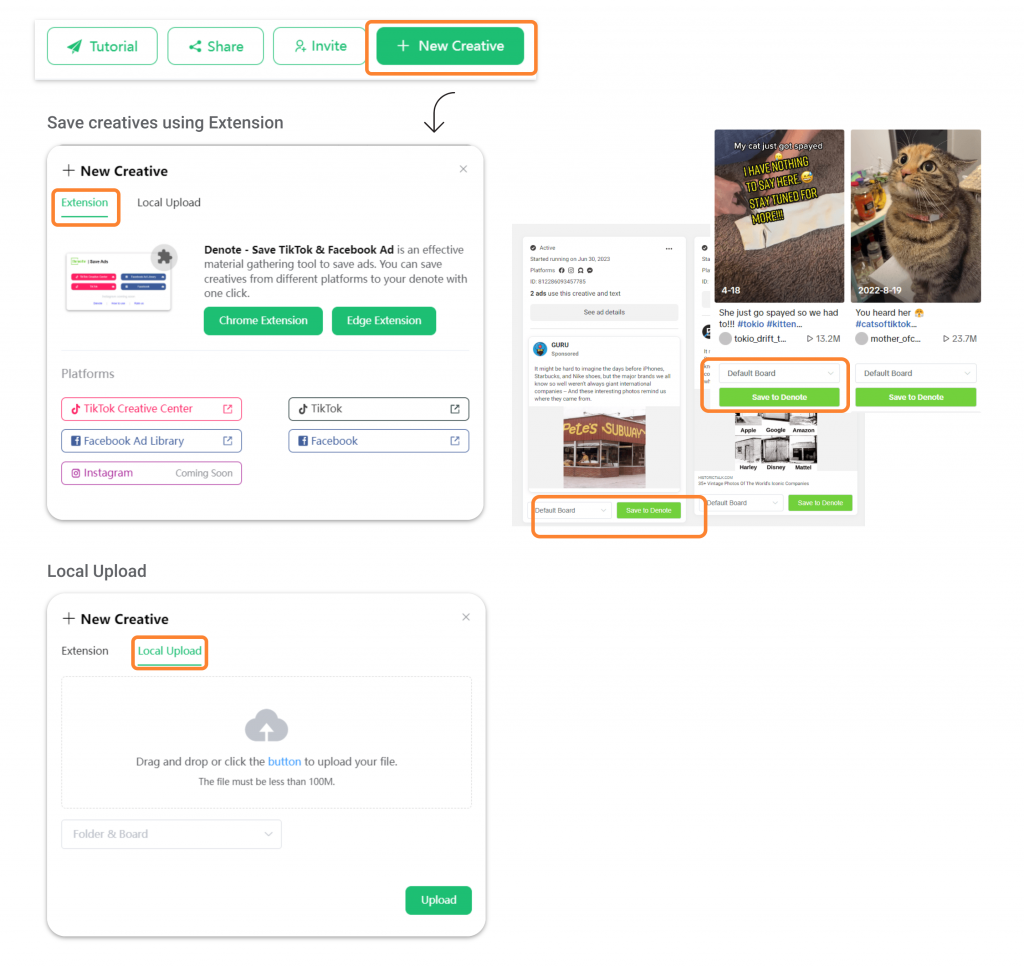 Creative Details
When you save ads to Denote we also include all the associated metadata from the platform. To view this, simply click on the button located in the top right corner of the creative to launch the creative details.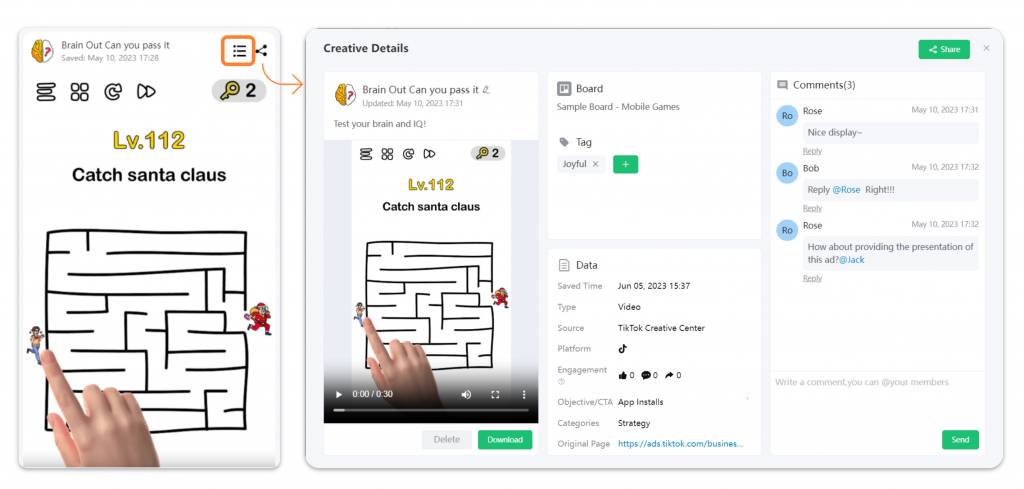 When launched, you will see the ad data:
Saved Time
Document Type
Source
Platform
Objective/CTA Type
Engagement(likes,comments,share)
Category
Original Page
Landing Page URL and Screenshot(Coming Soon)
Suggest Keyword of TikTok(Coming Soon)
Manage Your Creatives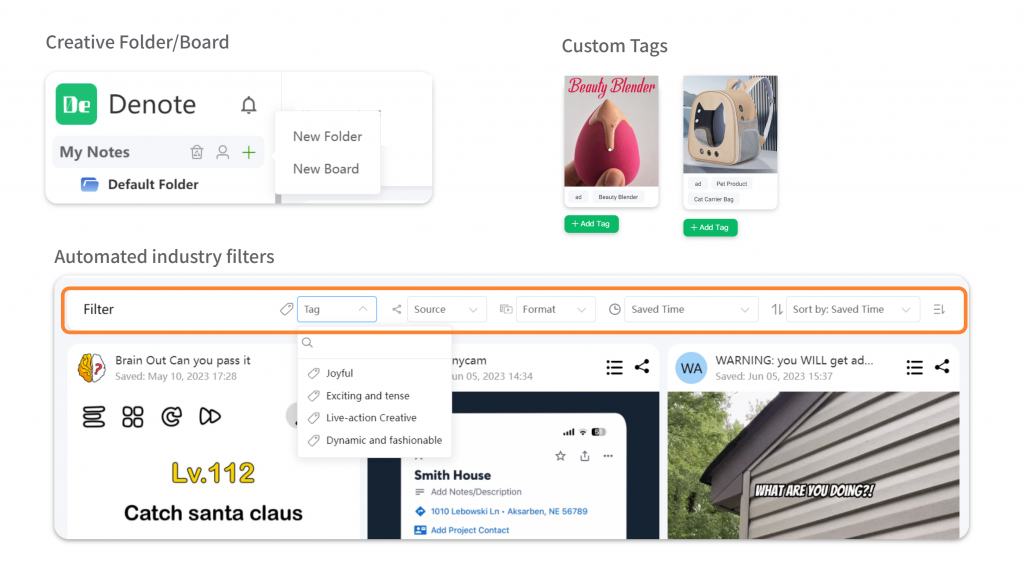 Folder & Board
Keep your files organized by creating folders and boards. You can name the folder based on your team's name or the intended creative purpose.Folders are a level up from Boards.
This way, you can efficiently manage your files and stay on top of your creative projects.
Tags
You can easily categorize existing files by adding tags, ensuring easy access and streamlined file management in the future.
Automated industry filters
The filtering feature supports you to select creative files based on various attributes, making it easy to find the exact file you need. You can find your creatives using the following filtering options:
Tag
Source
Platform
Saved Time
Sort
Share Creatives & Discuss with Your Team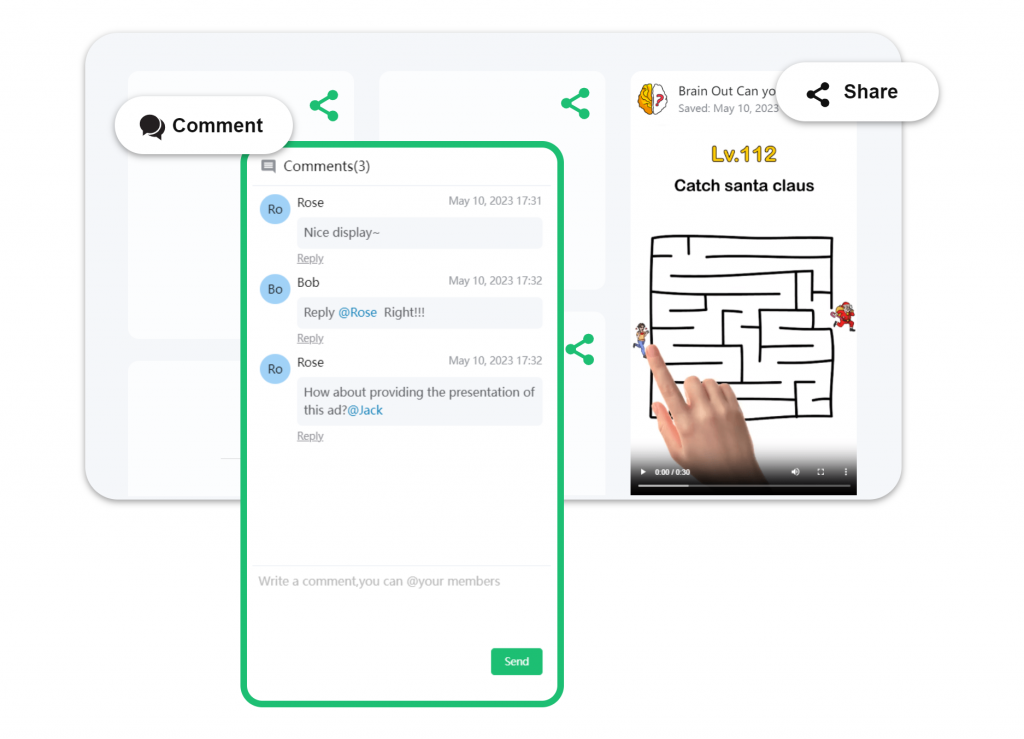 Click the "Share" button to copy link of board or creative, then you are able to share your creative content with your partners.
Invite your partners to join your folder, or join teams led by other members, enabling seamless collaboration and efficient creative management with your team.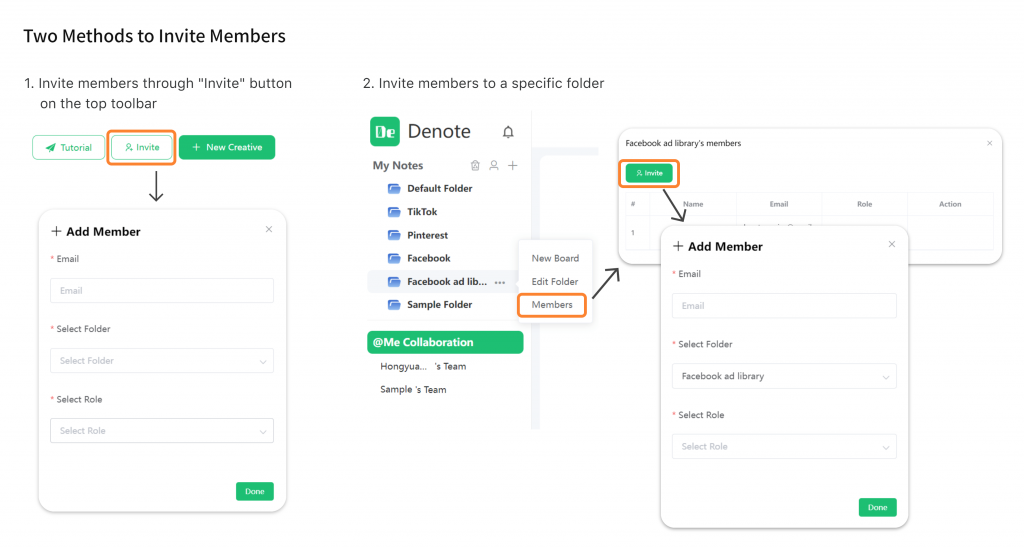 Go ahead, dive in and experience the amazing Denote!