How To Download and Save Facebook Video Ads From Facebook Ad Library?
This article will guide you on the most effective method to save advertising inspiration from Facebook and the Facebook Ad Library.
Introduction
Facebook Ad Library is a valuable resource for marketers and researchers to gain insights into the advertising strategies of businesses. However, sometimes you may come across captivating video ads that you wish to download and save for future reference or analysis. In this blog post, we will guide you through the process of downloading and saving Facebook video ads from the Facebook Ad Library.
This significant challenge leads to the question: How can I download video ads from the Facebook Ad Library / Meta Ad Library?
Step 1: Find the ads you want to save from Facebook Ad Library
To begin, you need to locate the specific ads you wish to download. Visit the Facebook Ad Library website (https://www.facebook.com/ads/library/) and use the search bar to find the ads by entering keywords, company names, or any other relevant information. Browse through the search results until you find the ads you want to save.
Step 2: Saving the Facebook Link or Using the Denote Chrome Extension
Once you have identified the desired ads, there are two methods you can use to download and save them: saving the Facebook link or utilizing the Denote Chrome extension.
Option 1: Saving the Facebook Link(Coming Soon)
Right-click on the video ad you want to save and select "Copy video URL" from the context menu.
Open a new tab in your web browser and paste the copied URL into the address bar.
Press Enter to load the video on its own page.
Right-click on the video and choose the "Save Video As" option to save it to your desired location on your computer.
Option 2: Using the Denote Chrome Extension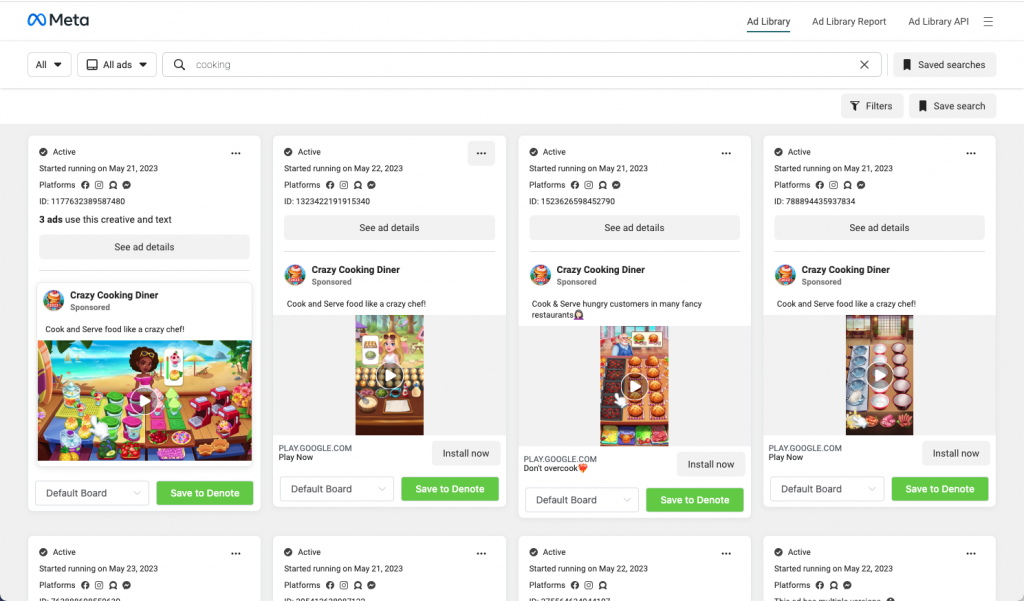 Download and install the Denote Chrome Extension.
When you visit the Facebook Ad Library and open an ad page, you will now see a "Save to Denote" button on the page.
Click on the "Save to Denote" button, and a window will appear where you can select the board on Denote to save the ad.
Choose the desired board and click "Save to Denote."
By following either of these options, you can save your Facebook ad inspiration to Denote. Additionally, Denote will also save other details from Facebook, including the Facebook ad copy, display format (vertical or horizontal), Facebook campaign objective, and advertising industry.
Moreover, with Denote, you have the ability to download the Facebook video directly to your computer, providing you with easy access to the saved content.
Step 3 (optional): Share your saved Facebook ads by Denote
Denote goes beyond just saving ads; it is designed for seamless collaboration. You can easily share boards with clients or colleagues using Denote. Here's how:
After saving your Facebook ads to Denote, click on the "Share" button located in the top right corner of the board.
This action will generate a unique link to your board that you can share with others.
The person you share the Denote board with does not need to have a Denote account to access it.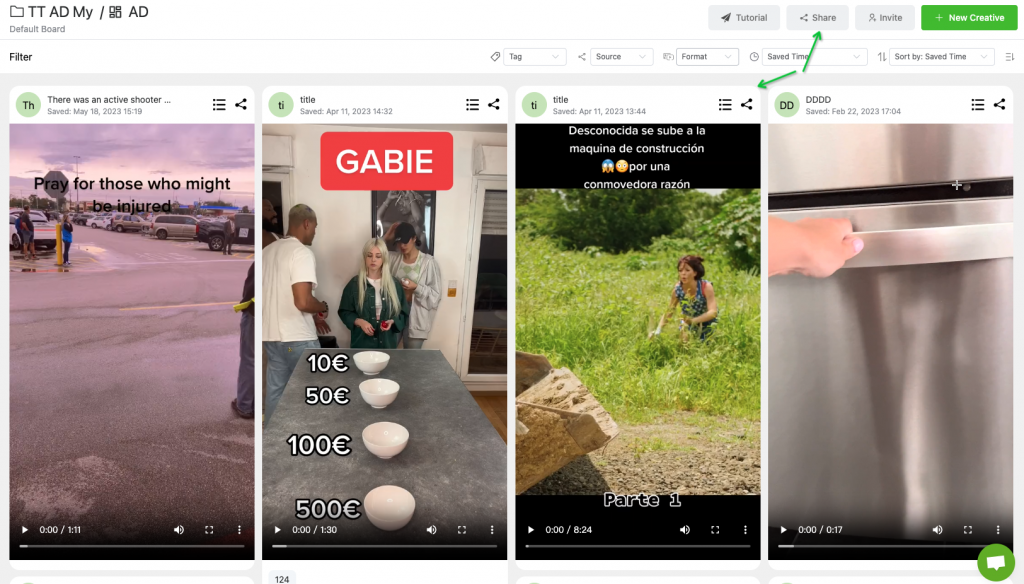 By sharing your Denote boards, you can collaborate and gather feedback on the saved Facebook ads from others without any hassle.
Furthermore, Denote isn't limited to saving ads from the Facebook Ad Library. It also allows you to save ads from the TikTok Creative Center. This makes Denote a versatile platform for collecting ad inspiration, generating ideas, and collaborating with your creative team. Give it a try and explore its full potential!
Conclusion
Downloading and saving Facebook video ads from the Facebook Ad Library can provide valuable insights and serve as a reference for your marketing strategies or research. By following the simple steps outlined in this blog post, you can easily download and save these ads for future use. Remember to respect copyright laws and usage rights when using the downloaded ads, ensuring that you comply with the terms and conditions set by Facebook.