TikTok Script Generator – Best AI Script Tool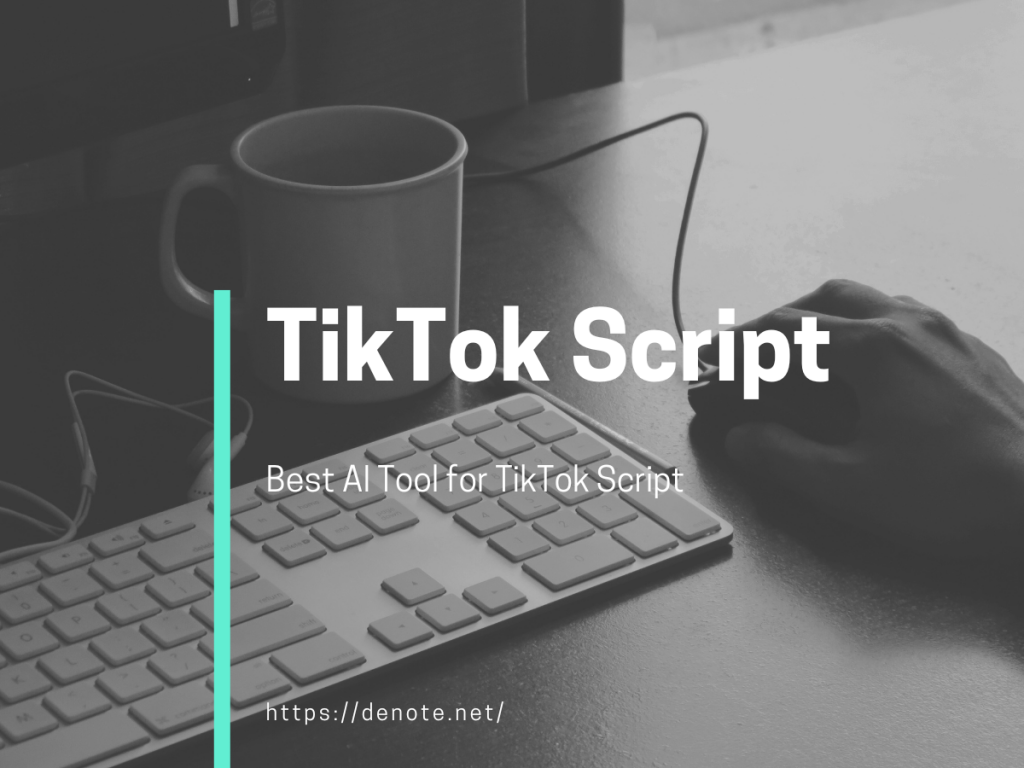 Content
Introduction
You can generate a unique TikTok script for any TikTok video, TikTok has revolutionized the way we create and consume short-form videos, and crafting a compelling TikTok script is vital for engaging your audience. In this Blog, we will explore how to create captivating TikTok script that resonate with your viewers and boost your content's appeal.
Why You Need TikTok Script Generator
TikTok Script Generator is a powerful tool designed to help content creators effortlessly generate scripts for their TikTok videos. It streamlines the script-writing process, making it easy for users to create captivating and engaging scripts for their short-form videos on the TikTok platform.
Use Cases:
The TikTok Script Generator is invaluable in various scenarios:
Enhancing Storytelling: Whether you're a seasoned creator or just starting, the generator helps you craft compelling scripts that enhance storytelling and captivate your audience.
Boosting Audience Engagement: With well-crafted scripts, you can create videos that resonate with viewers, driving higher engagement and interaction.
Streamlining Content Creation: The tool saves time and effort by providing relevant suggestions, allowing you to focus on creating outstanding TikTok content.
Benefits:
Time-Saving: Generate scripts in a snap, freeing up more time for creativity and video production.
User-Friendly: The tool's user interface is intuitive, making scriptwriting a breeze for all levels of creators.
Versatility: It caters to various content styles and creators, from novices to experienced professionals, empowering everyone to create captivating TikTok videos.
By embracing the TikTok Script Generator, you can elevate your TikTok content, tell engaging stories, and foster deeper connections with your audience. Unleash your creativity and make the most of this powerful tool to enhance your TikTok journey!
How To Use TikTok Script Generator
Install the "AI Script Generator for TikTok" extension and generate a TikTok script using the following simple steps.
Step 1: Install the Extension
Start by installing the "AI Script Generator for TikTok" Chrome extension from the Chrome Web Store. You can also open the Google Chrome Web Store and search for "TikTok Script" to locate this extension. Then, click "Add to Chrome" to install it.

Step 2: Open TikTok
Please make sure you have installed the "AI Script Generator for TikTok" extension. Once it's installed, open any TikTok page. You will find a button to generate a TikTok script on every TikTok page.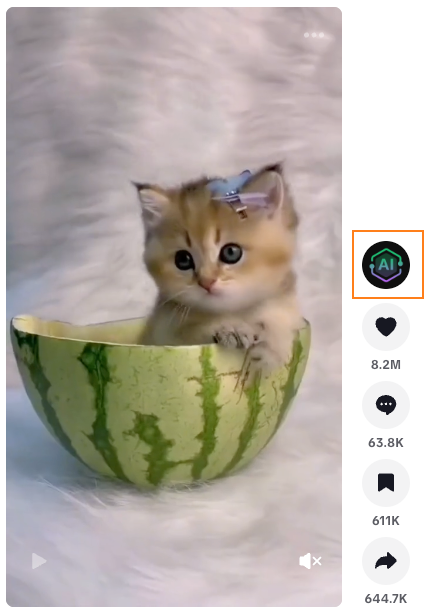 Step 3: Click the Extension Icon
Under the video you're interested in, simply click on the "AI Script Generator for TikTok" extension icon, and you will see the browser's sidebar pop up with the TikTok script generator. The generator will automatically fill in the data for that video, including the Description, Title, Keywords, and Tags.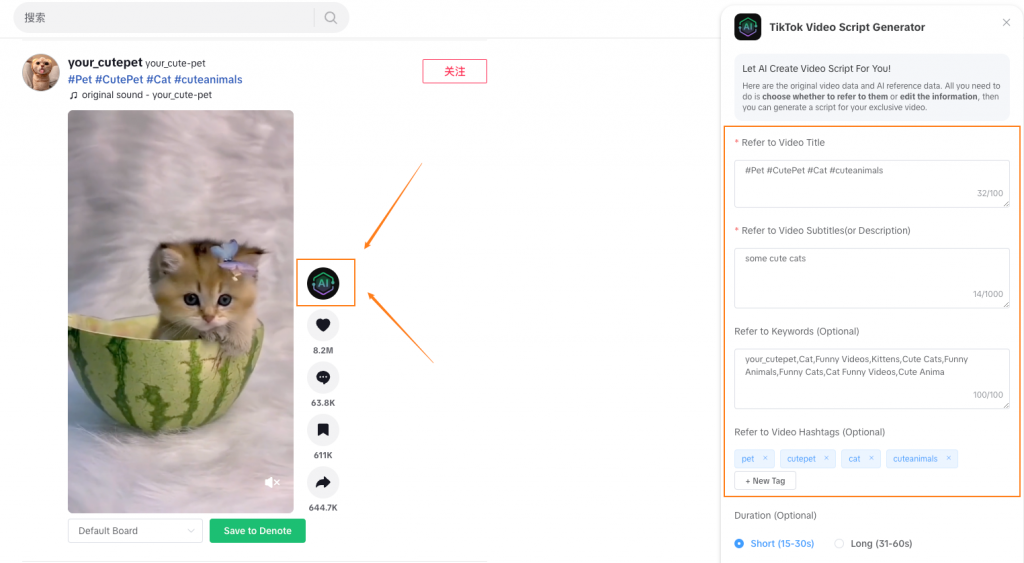 Step 4: Add additional conditions
If you want the generated TikTok script to better suit your expectations, you can supplement, modify, or add to the automatically filled content. For example, you can replace "Cat" with "Dog" or make any other desired changes to the script. The TikTok Script Generator is flexible and allows you to customize the content according to your preferences.
Step 5: Enjoy Generating TikTok Script with AI
Great! With all the preparation done, you have the option to choose the length of the generated script before finalizing. Keep in mind that longer scripts may take more time to generate. Based on your specific needs, you can make your selection. Once you've made your final choices, click on "Generate Video Script," and you'll have the TikTok script exactly the way you want it. Happy TikToking!
Step 4: Add additional conditions

Step 5: Enjoy Generating TikTok Script with AI
Write AI Script On TikTok Creative Center
Our extension not only supports the TikTok platform but will also extend its support to the TikTok Creative Center in the future. AI script generation is an extremely practical feature, The TikTok Creative Center houses a vast amount of creative information, allowing users to find inspiration from these ideas. By using AI scripts, creative professionals can significantly reduce the time spent on content writing, enabling them to focus on creating high-quality content.
How To Write a Social Media Video Script
If you want to learn how to write a script for other social media platforms besides TikTok, such as YouTube, Instagram, Facebook, or Twitter, You can stay updated by continuously following our blog posts. Soon, we will explore how to craft compelling video scripts for various social media platforms
Conclusion
Mastering TikTok script writing skills is an indispensable asset for any creative user aiming to thrive on TikTok. Utilizing TikTok script allows you to find creative inspiration, maintain concise and captivating content, and make it relevant to your target audience. Enhancing your creativity through TikTok script can truly make your content shine on the platform. In the future, this extension will be integrated with even more platforms, not just TikTok Script. There will be YouTube Script, Facebook Script, and more. Please stay tuned for updates, and now, you can begin your journey of enjoying TikTok script generation.