What is UGC Creator Jobs & Become a Successful One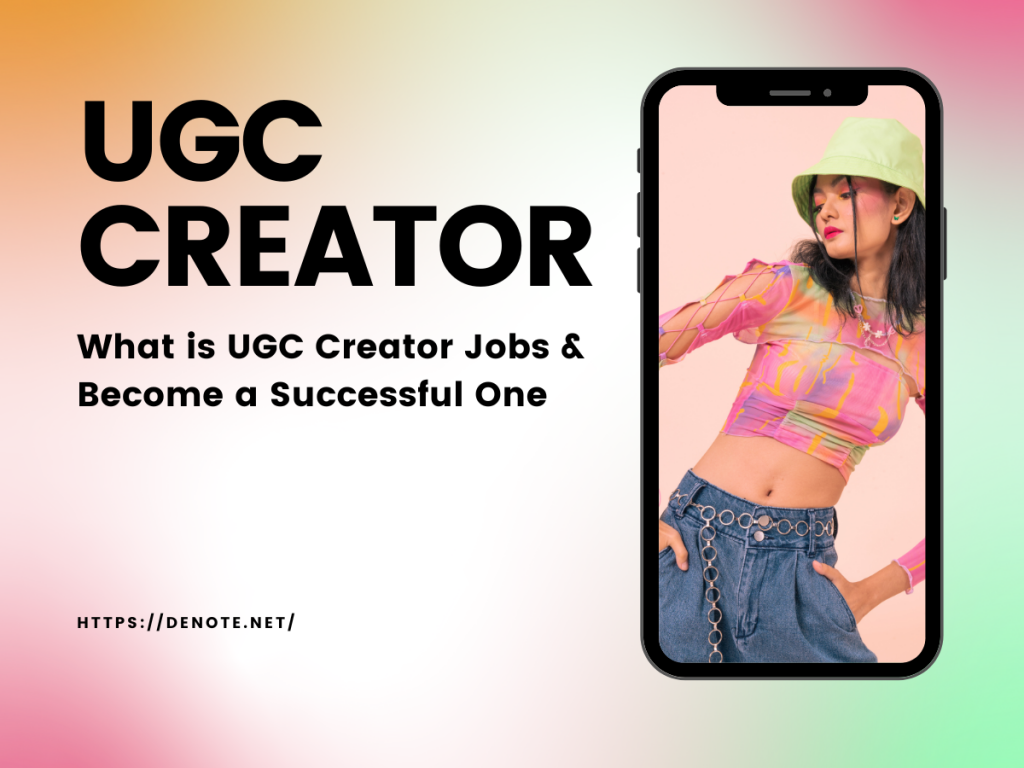 Contents
---
Introduction
User-generated content (UGC) has exploded in popularity in recent years. Platforms like TikTok and Instagram are full of creative content made by regular people, not professional creators. This has opened up new opportunities to make money creating UGC. In this post, we'll explore what UGC creator jobs are, how to become a successful UGC creator, and tips for finding brand deals.
What is UGC Creator Jobs
UGC creator jobs involve making and monetizing original social media content. Types of UGC creator roles include:
Social media influencers - Build an audience on platforms like TikTok, Instagram, or YouTube then partner with brands.
Freelance content creators - Make social videos, photos, or other assets for brands on a one-off basis.
UGC content managers - Manage UGC content creation and acquisition for a brand.
It's a way for creative people to leverage their skills and make money on social platforms.
How to Become a UGC Creator
Here are some tips for becoming a successful UGC creator:
Build Your Personal Brand
Create a consistent persona and style that represents your brand. This will connect you with your target audience.
Leverage your unique skills, perspective and personality. Stand out by showcasing what makes you different.
Be authentic and genuine. Don't pretend to be someone you're not. Your audience will connect with the real you.
Create Quality Content Consistently
Aim to post content daily, or at minimum several times per week. Consistency is key to building a loyal audience.
Ensure your content is high-quality, creative and engaging. Trending audio, effects and editing can help captivate viewers.
Pay attention to trends but also find ways to put your unique spin on content. This will set you apart.
Optimize Your Channel for Discoverability
Include relevant keywords, hashtags and captions so your content is easily discovered by those interested in your niche.
Leverage features like links in bios and profile links to drive traffic to your other channels.
Respond to comments, engage with your community. This helps build authentic connections.
Check analytics to see what content resonates best with your audience and do more of that.
How to Look for Brands as a UGC Creator
Once you've built an audience, here are some tips for connecting with brands as a creator:
Identify Relevant Brands in Your Niche
Make a list of brands that align with your content style and audience demographic.
Do research on their target audience, brand messaging, and the types of creators they partner with.
Pay attention to the brands your audience engages with most and focus on those.
Actively Reach Out to Brands
Send customized pitches showing how you could create value for specific brands.
Offer to create sample UGC for them for free to showcase your skills.
Follow up persistently but politely if they don't respond right away.
Monitor Social Media for Partnership Opportunities
Set up alerts for relevant brand names and hashtags to find partnership calls.
Look for brands hosting contests or activations and create content around them.
Keep an eye out for brands commenting on videos in your niche to connect.
Attend Events to Network with Brands
Go to industry events, conferences, or meetups where you can connect with brand reps.
Follow brands you're interested in and engage with their social content to get on their radar.
Ask other creators for introductions to brands they have partnered with successfully.
How to Market on TikTok as a UGC Creator
Here are some best practices for UGC creators to leverage TikTok specifically for brand partnerships:
Create Content for Hashtag Challenges
Keep an eye out for trending hashtag challenges related to your niche and create content for them.
Add the sponsored hashtag and any other relevant hashtags in your caption to increase visibility.
Post your content early in the hashtag challenge to maximize exposure.
Do Duets and Stitches with Relevant Brands
Duet or stitch brand videos to add your own creative spin and commentary.
Tag the brand and add #ad or #sponsored to properly disclose the partnership.
Ask the brand permission first before using their content to avoid issues.
Use Branded Effects, Filters and Stickers
Feature branded AR effects, lenses or stickers in your content to showcase brand partnerships.
Tag the brand in your captions when featuring their branded content.
Create your own branded content to pitch to brands as samples of what you can do.
Go Live with Brand Partners
Coordinate co-streaming partnerships with brands relevant to your audience.
Cross-promote the livestream on other social platforms to drive viewership.
Give the brand shoutouts and feature their products during the live video.
How to Use TikTok Creative Center for UGC Content
TikTok's Creative Center provides useful inspiration and assets for creators making branded content:
Browse trending tracks, hashtags, and effects to make content that resonates.
Search the brand partnerships toolkit for briefs on current branded campaigns to participate in.
Use brand assets like logos, licensed music, stickers, filters and more provided by brands.
Get inspired by successful sponsored content and case studies.
Find Trending Audio and Effects
Check what music, sounds and effects are currently popular to use in your content.
This will help make sure your content resonates and aligns with the latest trends.
You can also discover new viral tracks to use before they blow up.
Get Inspiration for Branded Content
Browse through successful sponsored campaigns for inspiration on creative ways to incorporate brands.
Look for ideas on how to organically integrate branded content vs overtly promotional.
Adapt trends and formats from successful case studies to your own niche.
Utilize Brand Assets and Guidelines
Review brand guidelines on proper use of logos, hashtags, handles to ensure brand alignment.
Take advantage of licensed music, effects, stickers and more provided by brands.
Ask brands for creator kits with assets and info to inform your content.
Stay Updated on Latest Features
Check Creative Center regularly for new formats, features and best practices as they emerge.
Test out new creative tools early to build skills and lead trends.
Provide feedback to brands/TikTok on what creator tools you find most helpful.
Taking advantage of these tools and resources can help UGC creators excel on TikTok and attract brands.
Conclusion
UGC creator jobs provide exciting new opportunities for social media creators to monetize their skills and passions. By consistently creating high-quality content tailored to brands, marketing yourself effectively, and leveraging platforms like TikTok, anyone can succeed as a UGC creator. Focus on honing your niche, collaborating strategically, and delivering value to both your audience and potential brand partners.